11th July 1955 Crawley Down, England - 28th September 1992 Kathmandu, Nepal
(R) Junbesi Village, Solukhumbu District, Nepal.
"Awake again into the margin
which houses all manner of subtle fancies
yet still knowing awhile the enchanted deep
before night's ink shall fade and morning admit
to let your ears renew charmed acquaintance
with the archaic melody of songbirds."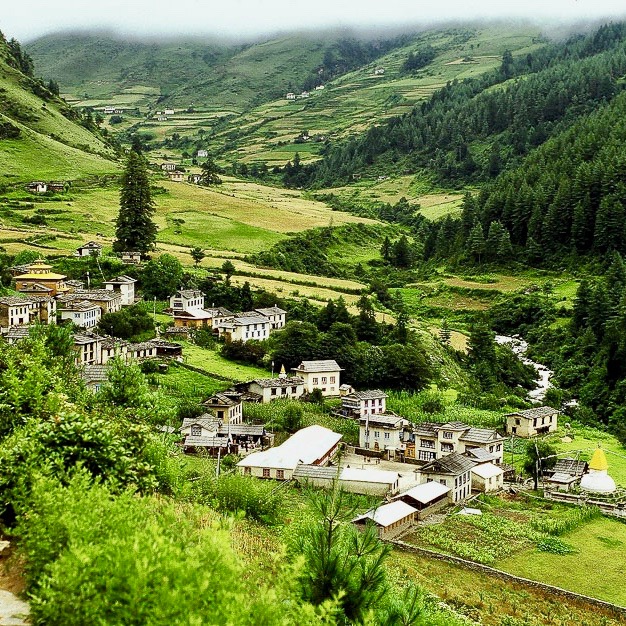 These pages reproduce Dominic Sasse's three volumes of poetry, together with transcriptions: The Ripening Kingdom (1994), The Jousting Meadow (1989) and Broken China (1986). I have attempted also German and French versions of The Ripening Kingdom.
I forget whether I read of Dominic Sasse in advance of the year (1994) that I spent teaching in and around Junbesi Village, Solukhumbu District, or on my return to Oxford. The Ripening Kingdom was not, after all, lost to the flames that consumed its author on a Nepalese mountainside, but rather published after his death from a MS that was recovered from a desk drawer in Ludlow, Shropshire. In either case, these 'last poems' work extraordinary power to evoke both a man whom I would like to have known and a country from which the imagination, whatever the passage of time, is never quite free.
The earlier work is somewhat lesser: the poet is in course of discovering his own 'voice'. However, there are passages that are memorable for their recollection of Greece, in particular, and for this reason I reproduce The Jousting Meadow and Broken China in full.
(R) Dominic Sasse is commemorated (20:08) at the PIA Memorial Park, Lele, Nepal.
Dominic Sasse, poet, writer, traveller, born Crawley Down Sussex 11 July 1955, married 1978 Mary Macauley, died Kathmandu 28 September 1992.
The Airbus that crashed into a Nepali mountain on Monday robbed us of one of our most talented young romantic poets, Dominic Sasse. He had had two collections of his work published, Broken China (1986), and The Jousting Meadow, published by my firm, Forward Publishing, in 1989. He also contributed to many poetry magazines and journals all over the world from Norway to Africa. For the last two years he had been working with me on his third collection. Tragically we believe that the only copy was lost with him.
A proud and passionate man, Dominic Sasse was very much the image of a romantic poet. Big in physique and spirit, often contentious and forceful in his opinions, he left a lasting impression on everyone he met. His main concern was that people live truthfully both to themselves and to others. He wouldn't tolerate 'bullshit' in any form and was never shy of telling people so. He wrote most of all about love, a subject that he felt was going out of fashion in poetry.
At times a despairing romantic, he unashamedly went to the heart of the human condition. Described as 'a remarkable poet' by Peter Levi and a poet of 'immaculate sentiments' by the late George Barker, he was compared by one critic for his best-known poem, 'A Song for the Synod', to the young Tennyson:
Our Father who fashioned
the dew to tremble,
the wind to stir,
the sea to rise and fall,
forgive us our trespasses,
as we roam these urban pastures.
Our Father who lent us breath,
sight and song,
yet also fearful passion,
protect us from undue emotion,
flatter not our vanity,
for simple is our human nature.
Our Father who art in exile,
hallowed once was your name,
now cited in vain,
the cause of sectarian murder.
You have led us into Temptation
and left us unable to resist.
Born in Sussex, the son of a Gurkha army officer who himself never went to Nepal, Dominic Sasse went through a relatively brief education, leaving Cranleigh at 15 and then rejecting his place at Farnham Art College for the open road. Like many poets, he found numerous ways to make a living; from landscape gardening, one of his great passions, to driving an old London taxi around Turkey and Greece, where he later lived and wrote his first collection of poetry. A great traveller, he spent the last five years of his life founding a visitor's lodge in the small village of Birethanti high in the Himalayas, his destination when his plane went down. Again, he had become a larger-than-life figure there, and he and his wife Mary provided hope, income and often much-needed medical welfare. Without him that small community will be desolate.
William Sieghart29th September, 1992
Dominic SasseI. "Into the Margin"